Special Fellowships
Through the support of generous donors and partner organizations who share our commitment to the arts and humanities, the Bogliasco Foundation is pleased to offer Special Fellowship awards, some of which include travel support and/or stipends to recipients.
Special Fellowships may be designated for persons working in a particular discipline or reserved for individuals coming from certain countries or geographic areas. In some cases, partner organizations may nominate specific candidates for Special Fellowship awards. Bogliasco Fellows need not apply in any special manner for Special Fellowships.  However, please include a note in your application if you wish to be considered for one of them.
For information about Special Fellowship sponsorship and partnership opportunities, click here.
We are pleased to thank our generous donors and partners who make possible the following Special Fellowships:
Bogliasco and Baryshnikov Arts Center Joint Fellowship
The Bogliasco Foundation and Baryshnikov Arts Center (BAC) joint residency offers Dance, Music, and Theater Fellows the opportunity to bring work developed in Bogliasco to a wider audience and bigger space in New York City. Joint Fellows in the performing arts disciplines will benefit from a month-long residency at the Study Center in Liguria to nurture and develop new projects, followed by a week-long residency at BAC in New York City to rehearse, workshop, and perform these works-in-progress. 
Bogliasco and Ludwig Foundation Special Fellowship for a Cuban Artist or Scholar
This new partnership with the Havana-based Ludwig Foundation may provide a travel stipend for selected Cuban Fellows and a 5-week residency at the Bogliasco Foundation's Study Center.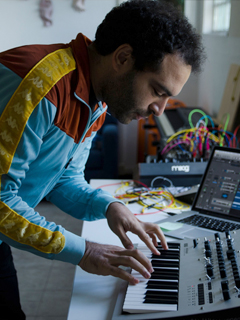 The Arthur F. and Alice E. Adams Charitable Foundation Fellowship in Literature
The Arthur F. and Alice E. Adams Charitable Foundation funds one Fellowship each year, which is reserved for an American writer. This Special Fellowship award provides a $3000 travel stipend.
Aaron Copland Bogliasco Fellowship in Music
The Aaron Copland Fund for Music, Inc. has provided funding for one Fellowship each year, which is reserved for an American composer. This Special Fellowship award provides a $1000 travel stipend.
Edward T. Cone Bogliasco Fellowship in Music
This Special Fellowship is named in honor of Edward T. Cone, the internationally renowned composer, pianist, and writer. The Edward T. Cone Foundation has provided funding for one Fellowship each year, which is reserved for an American composer. This Special Fellowship award provides a $1500 travel stipend.
The Van Cleef & Arpels Fellowships in Choreography and Poetry
Van Cleef & Arpels sponsors annual Fellowships for a choreographer and a young poet of any nationality. Both Fellowships include a $2000 stipend for the awardees.
More about Van Cleef & Arpels: 
Founded at Paris' 22 Place Vendôme in 1906, Van Cleef & Arpels came into being following Estelle Arpels' marriage to Alfred Van Cleef in 1895. Over the decades, the excellence of the High Jewelry Maison established its reputation across the world. Its emblematic signatures – such as the Alhambra® motif, the Zip necklace or the Mystery Set™ technique – its selection of Pierres de Caractère™, exceptional gems that instill an emotion, and the savoir-faire of its Mains d'Or™, the virtuoso craftsmen of Van Cleef & Arpels' workshops, have given birth to jewelry and watchmaking collections redolent of dreams and enchantment. Today, the Maison remains faithful to this highly distinctive style characterized by poetry, refinement, creativity and artistic sensibility. Whether inspired by nature, couture, dance or the imagination, it offers the world a gateway to a timeless universe of beauty and harmony.
Van Cleef & Arpels' constant commitment to creation also finds expression in its various activities as a partner and patron in the cultural field. Reflecting the Maison's attachment to values of transmission and sharing, these initiatives take place in sectors that it holds dear: they include heritage protection, fine and decorative arts, design, ballet and poetry.
The Virginia Howard Fellowship
This new Fellowship for an African-American woman working in any discipline of the arts and humanities at any stage in her career is named after Virginia Howard, the late mother of founding trustee Marina Biaggi Harrison. A lifelong active member of the Democratic party in New York State, Virginia was a passionate supporter of women's rights, equality and social justice movements. The Virginia Howard Fellowship acknowledges and celebrates the ingenuity, creativity and crucial role of Black American women in upholding our Democracy, particularly during the historic 2020-2021 elections in the USA. The Fellowship includes a $3000 stipend for the awardee.